Implementing IXmlWriter Part 11: Supporting Namespaces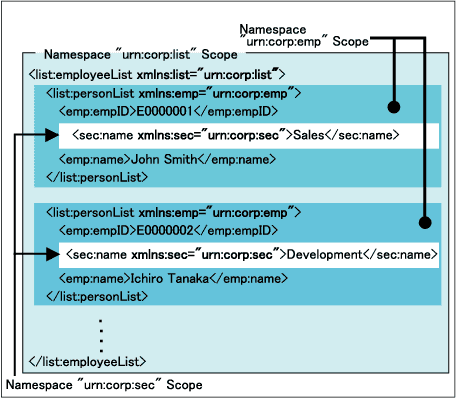 This is part 11 of my Implementing IXmlWriter post series.
Today I will add support for namespaces to last time's IXmlWriter.
Namespaces are defined by the W3C recommendation Namespaces in XML. Using namespaces requires two parts: a namespace declaration, which associates a prefix with a namespace name (a user-defined, ideally globally-unique string which defines the namespace, often in the form of a URL); and the assignment of XML elements and attributes to this namespace by using the aforementioned prefix.
Here's an example of a XML document that uses namespaces:
<?xml version="1.0"?>




<bk:book

 

xmlns:bk=

'urn:loc.gov:books'

>




</bk:book>
The xmlns:bk='urn:loc.gov:books' is the namespace declaration, and it assigns the prefix bk: to the namespace name urn:loc.gov:books. The book element is declared as a member of the urn:loc.gov:books namespace (and not the default, empty namespace) by the usage of this prefix.
There are a few subtleties to the use of namespaces. A common one is that while you can declare a default namespace into which unprefixed elements are automatically assigned (through the use of xmlns="..."), unprefixed attributes are not automatically assigned into this namespace. In other words, the following XML fragments are not equivalent because the title attributes are in different namespaces:
<--

 

The

 

title

 

attribute

 

is

 

in

 

the


    

urn:loc.gov:books

 

namespace

 

--

>




<bk:book

 

bk:title=

'Cheaper by the Dozen'


         

xmlns:bk=

'urn:loc.gov:books'

>




</bk:book>
<--

 

The

 

title

 

attribute

 

is

 

in

 

the


    

empty

 

namespace

 

--

>




<book

 

title=

'Cheaper by the Dozen'


      

xmlns=

'urn:loc.gov:books'

>




</book>
An important point to note (and one which we will take advantage of shortly) is that the value of the prefix is meaningless — it is simply a shorthand way of denoting the membership of a XML element or attribute in a namespace. In other words, if I replaced bk: with foobar: everywhere in the above code, the resulting document would be equivalent to the original. Therefore, for now, I choose to not allow users of IXmlWriter to control the namespace prefixes — I will assign them automatically as ns1:, ns2:, …
In order to keep track of what namespaces have already been declared, I will store them (in addition to the namespace-qualified name QName) in m_openedElements. Because I need the ability to search all declared namespaces for all opened elements, I will change m_openedElements from a std::stack to a std::vector. Furthermore, because namespaces can only be declared in an essentially stack-like manner, I can assign namespace prefixes by simply counting up the total number of namespace prefixes already declared and adding one. I will not support default namespaces at this time.
Here are the five test cases I developed for this functionality:
// Test simple namespaces


StringXmlWriter xmlWriter;
xmlWriter.WriteStartElement(

"root"

, 

"namespace1"

);
xmlWriter.WriteEndElement();

std

::

string strXML 

=

 xmlWriter.GetXmlString();


// strXML should be <ns1:root xmlns:ns1="namespace1"/>

// Test attribute namespacing


StringXmlWriter xmlWriter;
xmlWriter.WriteStartElement(

"root"

, 

"namespace1"

);
  xmlWriter.WriteAttributeString(

"att"

, 

"namespace1"

, 

"value"

);
xmlWriter.WriteEndElement();

std

::

string strXML 

=

 xmlWriter.GetXmlString();


// strXML should be <ns1:root xmlns:ns1="namespace1" ns1:att="value"/>

// Test child namespace declarations


StringXmlWriter xmlWriter;
xmlWriter.WriteStartElement(

"root"

, 

"namespace1"

);
  xmlWriter.WriteElementString(

"child"

, 

"namespace2"

, 

"value"

);
xmlWriter.WriteEndElement();

std

::

string strXML 

=

 xmlWriter.GetXmlString();


// strXML should be:


// <ns1:root xmlns:ns1="namespace1"><ns2:child xmlns:ns2="namespace2">value</ns2:child></ns1:root>

// Complicated namespace test


StringXmlWriter xmlWriter;
xmlWriter.WriteStartElement(

"root"

, 

"namespace1"

);
  xmlWriter.WriteStartElement(

"child"

, 

"namespace2"

);
    xmlWriter.WriteAttributeString(

"att1"

, 

"namespace1"

, 

"value1"

);
    xmlWriter.WriteAttributeString(

"att2"

, 

"namespace2"

, 

"value2"

);
    xmlWriter.WriteAttributeString(

"att3"

, 

"namespace3"

, 

"value3"

);
    xmlWriter.WriteAttributeString(

"att4"

, 

"value4"

);
    xmlWriter.WriteStartElement(

"child2"

, 

"namespace3"

);
      xmlWriter.WriteString(

"value"

);
    xmlWriter.WriteEndElement();
  xmlWriter.WriteEndElement();
xmlWriter.WriteEndElement();

std

::

string strXML 

=

 xmlWriter.GetXmlString();


// strXML should be (on one line):


// <ns1:root xmlns:ns1="namespace1">


// <ns2:child xmlns:ns2="namespace2" ns1:att1="value1" ns2:att2="value2" xmlns:ns3="namespace3" ns3:att3="value3" att4="value4">


// <ns3:child2>value</ns3:child2>


// </ns2:child>


// </ns1:root>

// Test "sibling" namespace declarations


StringXmlWriter xmlWriter;
xmlWriter.WriteStartElement(

"root"

);
  xmlWriter.WriteStartElement(

"child1"

, 

"namespace1"

);
  xmlWriter.WriteEndElement();
  xmlWriter.WriteStartElement(

"child2"

, 

"namespace1"

);
  xmlWriter.WriteEndElement();
xmlWriter.WriteEndElement();

std

::

string strXML 

=

 xmlWriter.GetXmlString();


// strXML should be (on one line):


// <root>


// <ns1:child1 xmlns:ns1="namespace1"/>


// <ns1:child2 xmlns:ns1="namespace1"/>


// </root>

Here's the new header file:
// StringXmlWriter.h





class

 

StringXmlWriter


{


private

:


    

enum

 WriteState
    {
        WriteState_Attribute, 

// An attribute value is being written


        WriteState_Content, 

// Element content is being written


        WriteState_Element, 

// An element start tag has been written (and is unclosed)


        WriteState_Prolog, 

// The prolog is being written


        WriteState_Start, 

// No Write() methods have been called


    };

    

struct

 OpenElement
    {
        

explicit

 OpenElement(

const

 std

::

string

&

 localName) 

:


            QName(localName)
        {
        }

        

explicit

 OpenElement(

const

 std

::

string

&

 localName,
                             

const

 std

::

string

&

 prefix) 

:


            QName(prefix.empty() 

?

 localName : prefix 

+

 

":"

 

+

 localName)
        {
        }

        

// The qualified name (namespace prefix-included) of the


        

// opened element


        std

::

string QName;
        

// All namespaces declared in this element (maps namespace


        

// to namespace prefix)


        

typedef

 std

::

map

<

std

::

string, std

::

string

>

 Namespaces_t;
        Namespaces_t Namespaces;
    };

    WriteState m_writeState;
    

// Need to use a vector instead of a stack because we must be able


    

// to iterate over each opened element in the stack to see if a


    

// namespace has already been declared.


    

typedef

 std

::

vector

<

OpenElement

>

 OpenedElements_t;
    OpenedElements_t m_openedElements;
    std

::

string m_xmlStr;



public

:


    StringXmlWriter();

    std

::

string GetXmlString() 

const

;
    

void

 

WriteAttributeString

(

const

 std

::

string

&

 localName,
                              

const

 std

::

string

&

 text);
    

void

 

WriteAttributeString

(

const

 std

::

string

&

 localName,
                              

const

 std

::

string

&

 ns,
                              

const

 std

::

string

&

 text);
    

void

 

WriteComment

(

const

 std

::

string

&

 text);
    

void

 

WriteElementString

(

const

 std

::

string

&

 localName,
                            

const

 std

::

string

&

 text);
    

void

 

WriteElementString

(

const

 std

::

string

&

 localName,
                            

const

 std

::

string

&

 ns,
                            

const

 std

::

string

&

 text);
    

void

 

WriteEndAttribute

();
    

void

 

WriteEndDocument

();
    

void

 

WriteEndElement

();
    

void

 

WriteStartAttribute

(

const

 std

::

string

&

 localName);
    

void

 

WriteStartAttribute

(

const

 std

::

string

&

 localName,
                             

const

 std

::

string

&

 ns);
    

void

 

WriteStartDocument

();
    

void

 

WriteStartElement

(

const

 std

::

string

&

 localName);
    

void

 

WriteStartElement

(

const

 std

::

string

&

 localName,
                           

const

 std

::

string

&

 ns);
    

void

 

WriteString

(

const

 std

::

string

&

 text);



private

:


    

// Disable copy construction and assignment


    StringXmlWriter(

const

 StringXmlWriter

&

);
    StringXmlWriter

&

 

operator

=

(

const

 StringXmlWriter

&

);

    std

::

string GetExistingNamespacePrefix(

const

 std

::

string

&

 ns);
    std

::

string GetNextNamespacePrefix(

const

 std

::

string

&

 ns);
};

Here's the new implementation file:
// StringXmlWriter.cpp


#include

 

"StringXmlWriter.h"







#define ARRAYSIZE(x) ( sizeof(x) / sizeof(x[0]) )





struct

 CharTranslation
{
    

char

 OriginalChar;
    

const

 

char

*

 ReplacementString;
};



static

 

const

 CharTranslation AttributeValueTranslations[] 

=


{
    { 

'"'

, 

"""

 },
    { 

'&'

, 

"&"

 },
};



static

 

const

 CharTranslation CharDataTranslations[] 

=


{
    { 

'&'

, 

"&"

 },
    { 

'<'

, 

"&lt;"

 },
    { 

'>'

, 

"&gt;"

 },
};



struct

 OriginalCharEquals :
    

public

 std

::

binary_function

<

CharTranslation, 

char

, 

bool

>


{
    

bool

 

operator

() (

const

 CharTranslation

&

 translation, 

char

 ch) 

const


    {
        

return

 (translation.OriginalChar 

==

 ch);
    }
};



static

 std

::

string TranslateString(

const

 std

::

string

&

 originalStr,
                                   

const

 CharTranslation

*

 translations,
                                   

int

 numTranslations)
{
    

// Actually one past end, needed for proper std::find_if semantics


    

const

 CharTranslation

*

 endTranslations 

=

 translations 

+

 numTranslations;

    std

::

string translatedStr;
    

for

 (std

::

string

::

const_iterator stringIter 

=

 originalStr.begin();
         stringIter 

!=

 originalStr.end();
         

++

stringIter)
    {
        

char

 ch 

=

 

*

stringIter;

        

const

 CharTranslation

*

 translation 

=

 std

::

find_if
            (
            translations,
            endTranslations,
            std

::

bind2nd(OriginalCharEquals(), ch)
            );
        

if

 (translation 

!=

 endTranslations)
        {
            translatedStr 

+=

 translation

->

ReplacementString;
        }
        

else


        {
            translatedStr 

+=

 ch;
        }
    }

    

return

 translatedStr;
}

StringXmlWriter

::

StringXmlWriter() 

:

 m_writeState(WriteState_Start)
{
}

std

::

string StringXmlWriter

::

GetXmlString() 

const


{
    

return

 m_xmlStr;
}



void

 StringXmlWriter

::

WriteAttributeString(

const

 std

::

string

&

 localName,
                                           

const

 std

::

string

&

 text)
{
    WriteStartAttribute(localName);
    WriteString(text);
    WriteEndAttribute();
}



void

 StringXmlWriter

::

WriteAttributeString(

const

 std

::

string

&

 localName,
                                           

const

 std

::

string

&

 ns,
                                           

const

 std

::

string

&

 text)
{
    WriteStartAttribute(localName, ns);
    WriteString(text);
    WriteEndAttribute();
}



void

 StringXmlWriter

::

WriteComment(

const

 std

::

string

&

 text)
{
    

switch

 (m_writeState)
    {
    

case

 WriteState_Element:
        

// An element is currently open. Close the element so we can open


        

// a new one.


        m_xmlStr 

+=

 

'>'

;
        m_writeState 

=

 WriteState_Content;
        

// FALL THROUGH


    

case

 WriteState_Content:
    

case

 WriteState_Prolog:
    

case

 WriteState_Start:
        m_xmlStr 

+=

 

"<!--"

;
        m_xmlStr 

+=

 text;
        m_xmlStr 

+=

 

"-->"

;
        

break

;
    

default

:


        

// It doesn't make sense to allow writing comments when writing an


        

// attribute value.


        

// TODO: Generate error


        

break

;
    }
}



void

 StringXmlWriter

::

WriteElementString(

const

 std

::

string

&

 localName,
                                         

const

 std

::

string

&

 text)
{
    WriteStartElement(localName);
    WriteString(text);
    WriteEndElement();
}



void

 StringXmlWriter

::

WriteElementString(

const

 std

::

string

&

 localName,
                                         

const

 std

::

string

&

 ns,
                                         

const

 std

::

string

&

 text)
{
    WriteStartElement(localName, ns);
    WriteString(text);
    WriteEndElement();
}



void

 StringXmlWriter

::

WriteEndAttribute()
{
    

switch

 (m_writeState)
    {
    

case

 WriteState_Attribute:
        m_xmlStr 

+=

 

'"'

;
        m_writeState 

=

 WriteState_Element;
        

break

;
    

default

:


        

// TODO: Generate error


        

break

;
    }
}



void

 StringXmlWriter

::

WriteEndDocument()
{
    

switch

 (m_writeState)
    {
    

case

 WriteState_Attribute:
        WriteEndAttribute();
        

// FALL THROUGH


    

case

 WriteState_Content:
    

case

 WriteState_Element:
        

while

 (

!

m_openedElements.empty())
        {
            WriteEndElement();
        }
        

break

;
    

case

 WriteState_Start:
    

case

 WriteState_Prolog:
        

// DO NOTHING


        

break

;
    

default

:


        

// TODO: Generate error


        

break

;
    }

    m_writeState 

=

 WriteState_Start;
}



void

 StringXmlWriter

::

WriteEndElement()
{
    

switch

 (m_writeState)
    {
    

case

 WriteState_Content:
        {
            m_xmlStr 

+=

 

"</"

;
            m_xmlStr 

+=

 m_openedElements.back().QName;
            m_xmlStr 

+=

 

'>'

;
            m_openedElements.pop_back();
            m_writeState 

=

 WriteState_Content;
            

break

;
        }
    

case

 WriteState_Element:
        {
            m_xmlStr 

+=

 

"/>"

;
            m_openedElements.pop_back();
            m_writeState 

=

 WriteState_Content;
            

break

;
        }
    

default

:


        

// TODO: Generate error


        

break

;
    }
}



void

 StringXmlWriter

::

WriteStartAttribute(

const

 std

::

string

&

 localName)
{
    WriteStartAttribute(localName, 

""

);
}



void

 StringXmlWriter

::

WriteStartAttribute(

const

 std

::

string

&

 localName,
                                          

const

 std

::

string

&

 ns)
{
    

switch

 (m_writeState)
    {
    

case

 WriteState_Element:
        {
        std

::

string nsPrefix;
        

bool

 mustDeclareNamespace 

=

 false;
        

if

 (

!

ns.empty()) {
            nsPrefix 

=

 GetExistingNamespacePrefix(ns);
            

if

 (nsPrefix.empty()) {
                nsPrefix 

=

 GetNextNamespacePrefix(ns);
                m_openedElements.back().Namespaces[ns] 

=

 nsPrefix;
                mustDeclareNamespace 

=

 true;
            }
        }

        

if

 (mustDeclareNamespace) {
            m_xmlStr 

+=

 

" xmlns:"

;
            m_xmlStr 

+=

 nsPrefix;
            m_xmlStr 

+=

 

"=

\"

"

;
            m_xmlStr 

+=

 ns;
            m_xmlStr 

+=

 

'"'

;
        }

        m_xmlStr 

+=

 

' '

;
        

if

 (

!

nsPrefix.empty()) {
            m_xmlStr 

+=

 nsPrefix;
            m_xmlStr 

+=

 

':'

;
        }

        m_xmlStr 

+=

 localName;
        m_xmlStr 

+=

 

"=

\"

"

;
        m_writeState 

=

 WriteState_Attribute;
        

break

;
        }
    

default

:


        

// TODO: Generate error


        

break

;
    }
}



void

 StringXmlWriter

::

WriteStartDocument()
{
    

switch

 (m_writeState)
    {
    

case

 WriteState_Start:
        m_xmlStr 

+=

 

"<?xml version=

\"

1.0

\"

?>"

;
        m_writeState 

=

 WriteState_Prolog;
        

break

;
    

default

:


        

// TODO: Generate error


        

break

;
    }
}



void

 StringXmlWriter

::

WriteStartElement(

const

 std

::

string

&

 localName)
{
    WriteStartElement(localName, 

""

);
}



void

 StringXmlWriter

::

WriteStartElement(

const

 std

::

string

&

 localName,
                                        

const

 std

::

string

&

 ns)
{
    

switch

 (m_writeState)
    {
    

case

 WriteState_Element:
        

// An element is currently open. Close the element so we can open


        

// a new one.


        m_xmlStr 

+=

 

'>'

;
        

// FALL THROUGH


    

case

 WriteState_Content:
    

case

 WriteState_Prolog:
    

case

 WriteState_Start:
        {
        std

::

string nsPrefix;
        

bool

 mustDeclareNamespace 

=

 false;
        

if

 (

!

ns.empty()) {
            nsPrefix 

=

 GetExistingNamespacePrefix(ns);
            

if

 (nsPrefix.empty()) {
                nsPrefix 

=

 GetNextNamespacePrefix(ns);
                mustDeclareNamespace 

=

 true;
            }
        }

        OpenElement openElement(localName, nsPrefix);
        

if

 (mustDeclareNamespace) {
            openElement.Namespaces[ns] 

=

 nsPrefix;
        }

        m_openedElements.push_back(openElement);
        m_xmlStr 

+=

 

'<'

;
        

if

 (

!

nsPrefix.empty()) {
            m_xmlStr 

+=

 nsPrefix;
            m_xmlStr 

+=

 

':'

;
        }
        m_xmlStr 

+=

 localName;
        

if

 (mustDeclareNamespace) {
            m_xmlStr 

+=

 

" xmlns:"

;
            m_xmlStr 

+=

 nsPrefix;
            m_xmlStr 

+=

 

"=

\"

"

;
            m_xmlStr 

+=

 ns;
            m_xmlStr 

+=

 

'"'

;
        }
        m_writeState 

=

 WriteState_Element;
        

break

;
        }
    

default

:


        

// TODO: Generate error


        

break

;
    }
}



void

 StringXmlWriter

::

WriteString(

const

 std

::

string

&

 text)
{
    

switch

 (m_writeState)
    {
    

case

 WriteState_Attribute:
        m_xmlStr 

+=

 TranslateString
            (
            text,
            AttributeValueTranslations,
            ARRAYSIZE(AttributeValueTranslations)
            );
        

break

;
    

case

 WriteState_Element:
        

// An element is currently open. Close the element so we can start


        

// writing the element content.


        m_xmlStr 

+=

 

'>'

;
        m_writeState 

=

 WriteState_Content;
        

// FALL THROUGH


    

case

 WriteState_Content:
        m_xmlStr 

+=

 TranslateString
            (
            text,
            CharDataTranslations,
            ARRAYSIZE(CharDataTranslations)
            );
        

break

;
    

default

:


        

// TODO: Generate error


        

break

;
    }
}

std

::

string StringXmlWriter

::

GetExistingNamespacePrefix(

const

 std

::

string

&

 ns)
{
    

for

 (OpenedElements_t

::

const_iterator openElemIter 

=

 m_openedElements.begin();
         openElemIter 

!=

 m_openedElements.end();
         

++

openElemIter)
    {
        OpenElement

::

Namespaces_t

::

const_iterator nsIter 

=


            openElemIter

->

Namespaces.find(ns);
        

if

 (nsIter 

!=

 openElemIter

->

Namespaces.end())
        {
            

return

 nsIter

->

second;
        }
    }

    

return

 

""

;
}

std

::

string StringXmlWriter

::

GetNextNamespacePrefix(

const

 std

::

string

&

 ns)
{
    

// Namespace prefixes are named ns1, ns2, … They directly correlate to


    

// the total number of namespaces already declared.



    size_t totalNumNamespaces 

=

 

0

;
    

for

 (OpenedElements_t

::

const_iterator iter 

=

 m_openedElements.begin();
         iter 

!=

 m_openedElements.end();
         

++

iter)
    {
        totalNumNamespaces 

+=

 iter

->

Namespaces.size();
    }

    std

::

stringstream ss;
    ss 

<<

 

"ns"

 

<<

 (totalNumNamespaces 

+

 

1

);
    

return

 ss.str();
}